READY TO RIDE?
We highly recommend you read some of our reviews before booking. All of our sessions are instructional. All of them are safety first, horses second and fun comes after those two things. Yes, we do love to adventure and we do LOVE LOVE LOVE to pick up the pace, but we are always careful not to jeopardize the mental or physical health of our horses.
A few things to keep in mind:
We ride from the seat and leg first, and hands second
Most horses have bosal or bitless bridles
Strict weight restrictions are for the safety of our horses and those who ride after you.
All children under 18 must wear a helmet
Please inquire with us directly if you have concerns about physical limitations at 512-230-8413.
Need assistance? Call/text is preferred, but kindly remember we cannot get back to all last-minute inquiries individually, as we are often on the trail. Please try back again. We appreciate you Maverick Riders!
---
CLASSIC TRAIL RIDES
Trails vary seasonally. Sometimes we book up online weeks in advance. You are always welcome to inquire about a private tour, event or group excursion for your group, but please keep in mind we may not be able to respond to last minute inquiries. It never hurts to ask!
Group Rides are open to the public and may overlap with each other (so you can combine ride experiences for large, mixed groups), students and horses in training. Private Rides are for individuals or groups who wish to keep their experience limited to Maverick horse handlers and their own preferred guests.
For special events, parties, reunions and retreats please contact us for a custom experience.
Lockhart Group Family Bluff-top Trail: $95 for adults, $75 children under 12
Most children under 12 will experience being ponied for part or all of the ride. This is a scenic tour structured to be highly leisurely and relaxing. Because of this, we expect riders to be pleased to get a break from steering by being ponied, for some or all of the ride, as necessary to maintain calm for the whole group. Want to relax? Want to gaze out yonder? Have small children or more mature riders or physical limitations? This is your choice! ENJOY the experience and leave the management to us! *** Open group bookings online very limited so book in advance. Please inquire directly for large groups, advance bookings or Special Events for groups. Spaces fill quickly so book in advance for your large group. If ride is marked CALL TO BOOK you may of course inquire but we may not be able to get back to last minute inquiries for these trail rides.
Lockhart Group Ranch Ride: $125 pp
Structured, but with big hills will occasional trotting. Children and mature riders looking for a more leisurely experience should inquire about capacity of handlers to lead horses. This ride requires all participants to follow instructions. Horses may suddenly trot and some sharp elevation changes require riders to stay engaged. Good for the average beginner who wants to really ride. Children as young as 4 years old have participated. Riders as mature as 90 have participated. That said, please inquire directly for riders under 12 and over 65 or riders with physical limitations before booking. Spaces fill quickly so book in advance for your large group. If ride is marked CALL TO BOOK you may of course inquire but we may not be able to get back to last minute inquiries.
Lockhart Private Ranch Ride: $175-$250 pp
Similar to the group ride, it is quite structured and geared toward a more leisurely ride. There's some room to cater to individuals with excellent balance and control for some light trotting and occasionally a light canter up an incline, but this tour is not geared to folks who know they want to pick up the pace. You may book this ride online.
Lockhart Group Horsemanship Trail: $175 pp
Our original trail, which started on the border of Round Rock and Hutto and took us into a beautiful creek and past a very interesting ranchette with buffalo, peacocks and donkeys going hay wire required tons of instruction. Over the years we've crafted this unique and highly instructional experience into an exhilarating, genuine horse interaction. It's great for more active and healthy beginners who really want to feel what it's like to move with a horse, in a strong coaching environment. It's even more fantastic to true horsemen and horsewomen who commit to lifelong learning, can follow instructions, but are confident in the walk, trot and canter. We will cater to the group as a whole and also to individuals in the group. Want to trot and canter? So do we! You may book this ride online.
Lockhart Private Horsemanship or River Ride Trail: $350 pp
Embark on a journey you're unlike to find many other places in the world. On real horses. That want to go. We will take you as far as you can on this adventure. We prefer to limit the Private Horsemanship to intermediate riders and up, although we can cater to small groups of beginners as well who are super adventurous and don't mind a town once in awhile.
Amateur eventers: This is what you have been looking for.
Bareback adventurers: Let's cool off in the water
Inquire for booking, 7 days a week.
Lockhart Group BBQ Town Tour: $275 pp
Beginners, children, the mature novice rider and experienced riders have all participated in this truly Texas experience. Venture into downtown Lockhart on horseback with help from our guides, and enjoy a meal at one of Lockhart's famous BBQ restaurants. You may book this epic Texas trail ride online.
Lockhart Private Town Tour: $350+
This private horse tour can be customized. Take a look at some of the alternative places to visit in Lockhart and don't be shy to get creative! Scoops on the Square? Yes! Magical kid's trip to Lockhart's beautiful library? Let's go! How about we play cops and robbers at the Caldwell County Jail Museum? Truly fun for all ages. Inquire for booking, 7 days a week.
ADVENTURE RIDES
Austin River Ride: $250-$350 pp
Ideal for more athletic, balanced beginners or more experienced riders, the water crossings in Onion Creek Park are scenic, with some seasonal exceptions that make for unsafe or less than flattering water crossings. Inquire for booking, 7 days a week.
Canyon Lake: $350 pp
Small and large groups can enjoy using 4-6 horses to tour the lake. We can plan half and full day excursions to this iconoclastic Texas To Do. The water is gentle and easy for lounging in on horseback as well as for waders! Great for taking amazing photos and fun for larger groups who are willing to ride and relax, taking turns. Inquire for booking, 7 days a week.
Bastrop River Ride: $350 pp
Enjoy a half-day tour where you'll get to explore scenic and hilly Bastrop with a trip to the Colorado River. This tour has trotting and cantering opportunities and is best geared toward riders who are able to pick up the pace. Inquire for booking, 7 days a week.
Matagorda Beach Daycation: Inquire for options
Life's a beach and who doesn't want to gallop down the beach on a horse who wants to fly? Or lollygag around and enjoy the day? We can make this all your own. Inquire for details!
Additional Excursions Upon Request
Overnight horse camping or day use at Parrie Haynes Ranch in Killeen. Visit their site HERE.
Sister Creek Ranch overnight and day trips, halfway between Boerne and Fredricksburg. Visit their site HERE.
Pundt Park near Houston, TX
Pace Bend Park
Special Events
Visit our Events page to inquire about booking birthday parties, weddings, and more.
---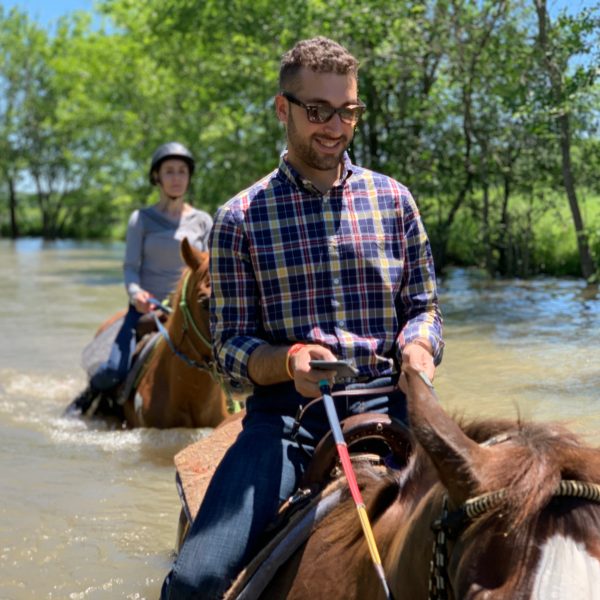 Our Locations
Check online for available private rides or please contact us directly for more information on private rides offered 7 days a week in Austin, Bastrop, Spicewood and Lockhart. Call or TEXT 512-230-8413. Want to get creative? We offer activities for birthday parties, picnics, corporate experiences, special events, retreats and more.
AUSTIN, TX
Private horseback riding excursions 7 days a week in Austin, Texas! Enjoy water crossings, wooded and open areas and opportunities to practice picking up the pace if you are looking for a more challenging experience.
LOCKHART, TX
Our most popular location by far, Lockhart boasts incredible panoramic views of the valley with bluff tops and over 200 feet of elevation changes. Walk, trot, canter rides available to public one time or regular riders through the horsemanship experience. Gorgeous trail rides for a relaxing day. Come experience Texas, Austin style.
Book daily online. Eat some of the best BBQ in Texas! Paddle boats, kayaks, fishing, bonfires and more for special events and parties. Inquire for extras. You may book online at the Lockhart location for Family, Rides, Private Ranch Tours, which a more structured trail ride mostly walking with some trotting. We DO have hills so you will need to be prepared for elevation changes or Horsemanship Trail Rides (More instructional, suitable for beginners through experienced riders who want a more engaging experience). Check out the epic Texas Town Tour where you can cruise into town on horseback on the Original Chisolm Trail right in the heart of historical Downtown Lockhart.
DALE, TX
Have a special someone in your life or a group of friends who are fans of motocross? Well this is the ride for you. Enjoy a 400+ acre ranch with 1.5 miles of horseback riding on a professional Lockhart motocross track as well as an additional 4 miles of trails through the woods and fields. VIP parties welcome. Email for Special Events details or information on Corporate Retreats.
---
Cancellation Policy
We reserve the right to charge in full for no-shows or cancellations as well as riders who misrepresent their weight by over 10lbs. Thanks for understanding this policy, which protects the health of the horses who make dreams come true. We care about equine health & we know you do, too! Curious? Check out our blog roll for more information on the importance of spinal and digestive care for the success of our program.
Don't want to ride because it's muddy, it's raining where you are or you think it might be raining at our ranch? You are welcome to cancel your ride at anytime. We understand guest preferences vary. We have a 25% rebooking fee.
Visit the FAQ Page for more information.
---
Photos from the Trail
Trail riding lessons can be so exciting for folks who want to get a taste for what real horseback riding is about. We do not believe it's about riding in circles in an arena three times a week for ten years, and we do not believe its about joy riding the snot out of unresponsive animals that only pick up the pace when they are headed back to the barn. Our trail riding lessons-paradigm on trail gives us the opportunity to educate riders, and this means that we can differentiate our teaching to the individual. THAT means that individuals who demonstrate good balance, good control and kind hands and seat are able to execute more advanced obstacles than others. We often ride with mixed skill-level horseback riding groups on trail, and we are happy to work with more confident or more experienced equestrians to be able to pick up the pace, have a little extra fun and experience something a little more gratifying than a trail ride.
Visiting from out of town? Ask us for recommendations on beautiful places to visit in San Marcos and South Austin. At just 20 minutes away, we are the closest riding ranch to downtown Austin.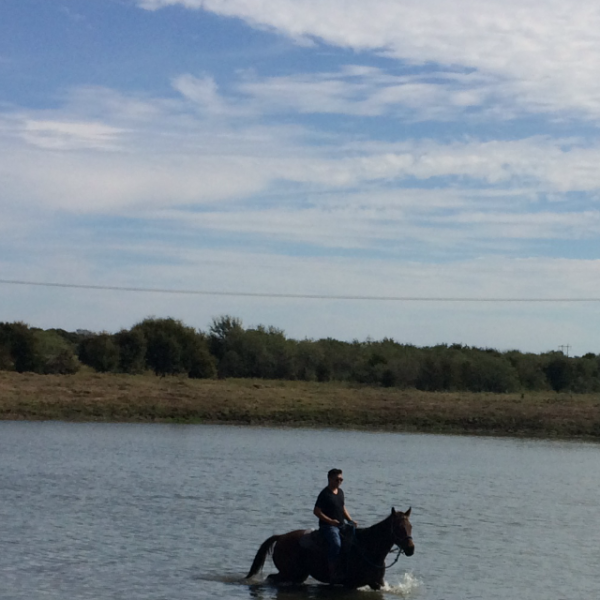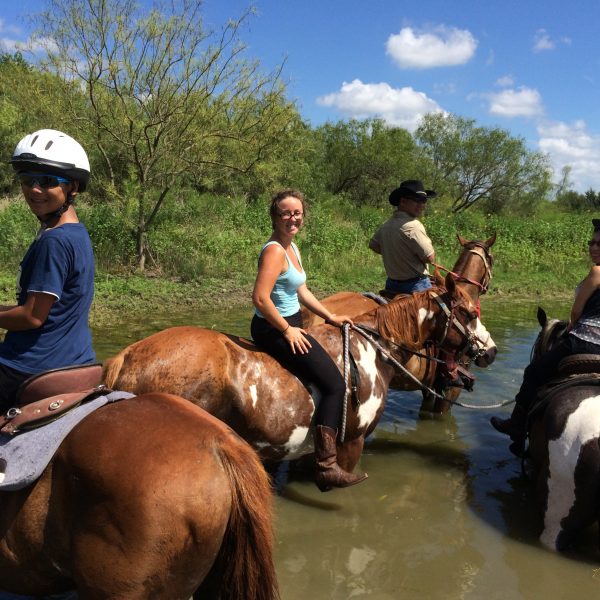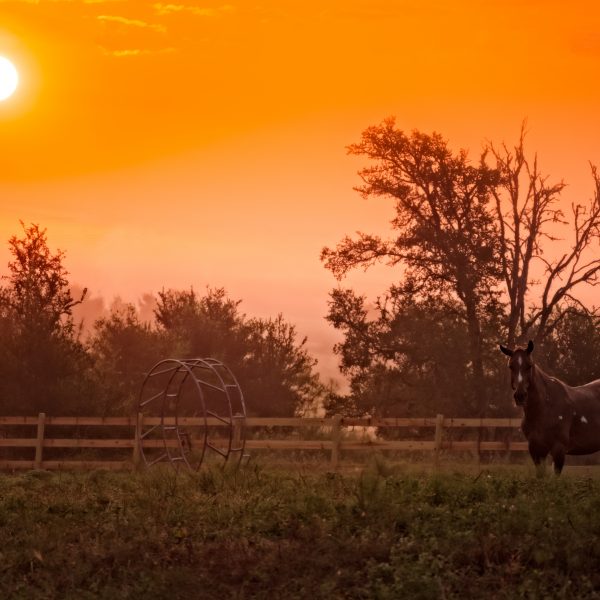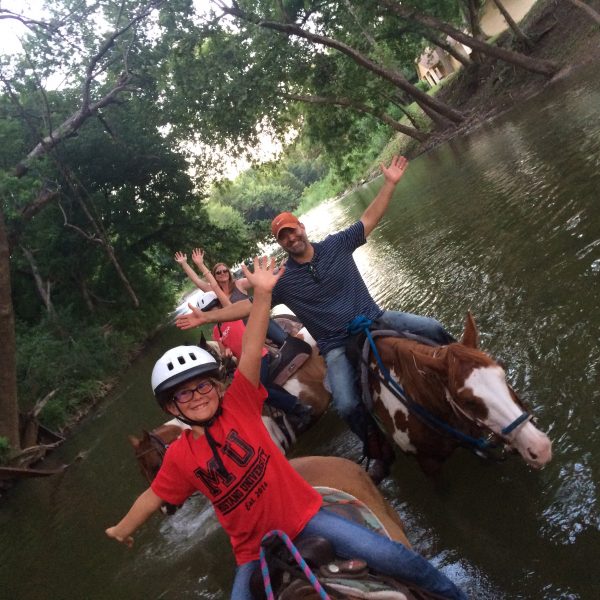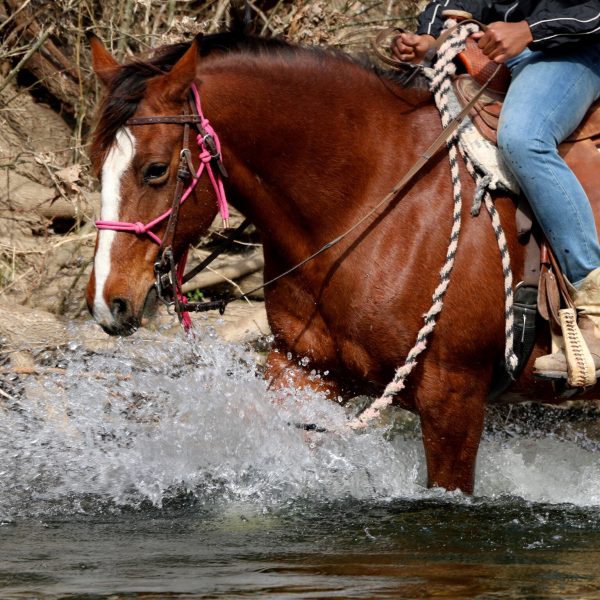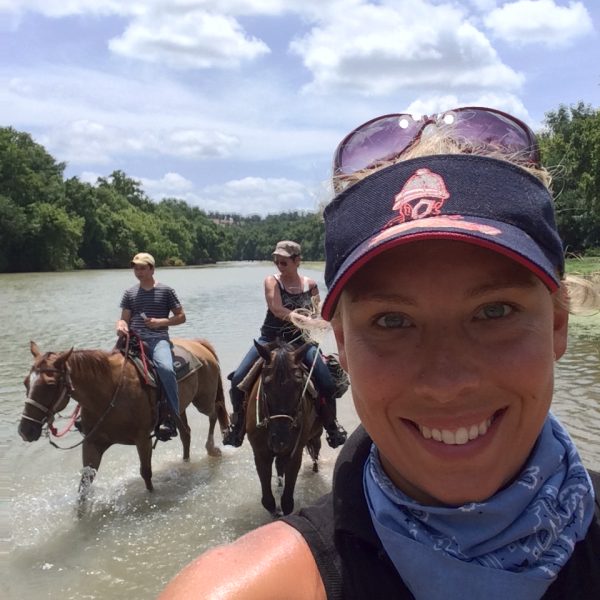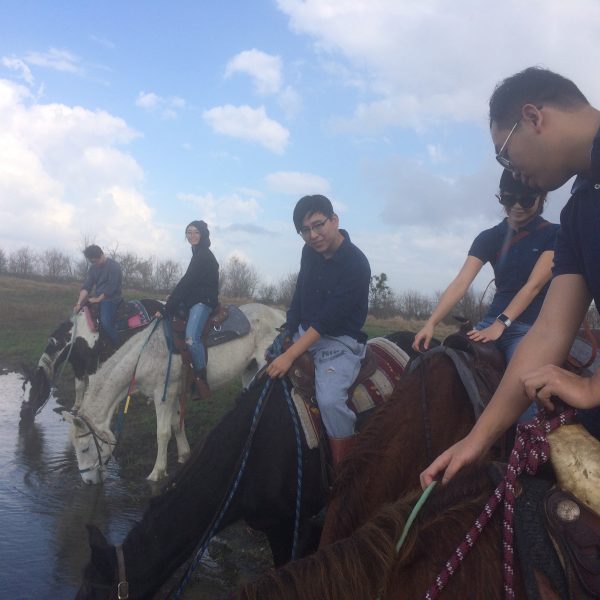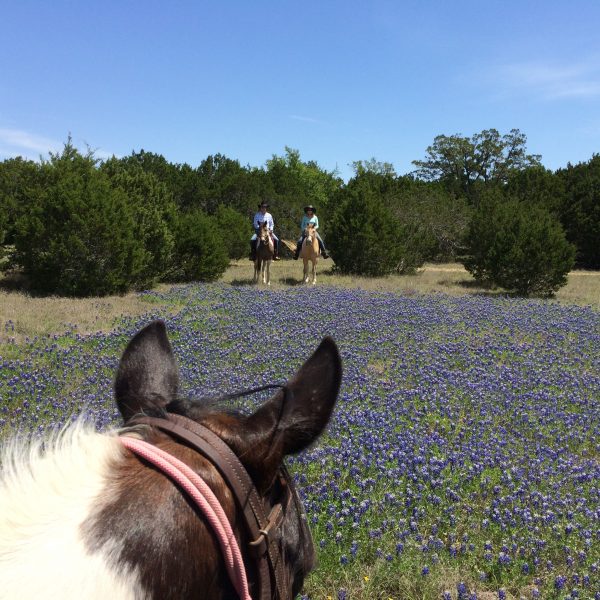 Click here for more information on rides to north-Austin-convenient location: Parrie Haynes Equestrian Center.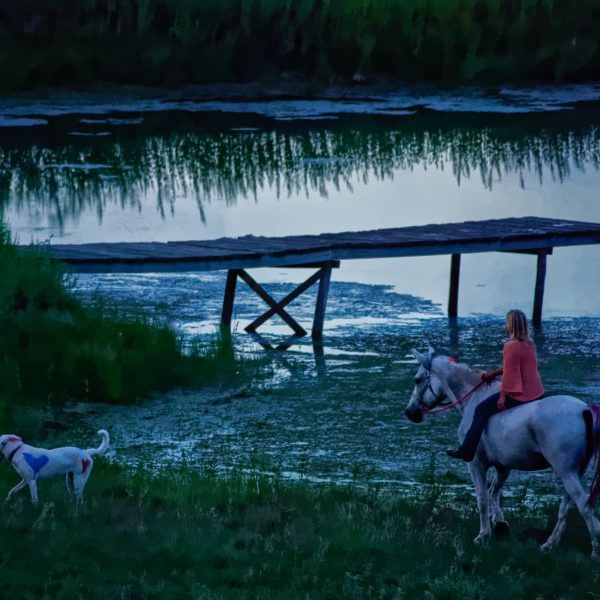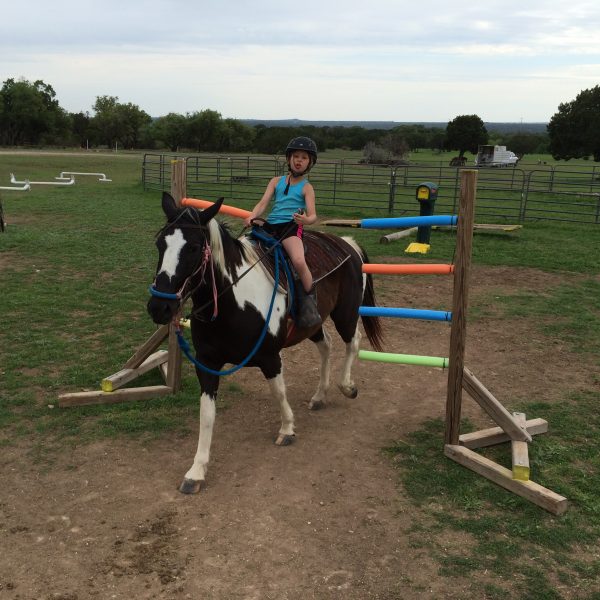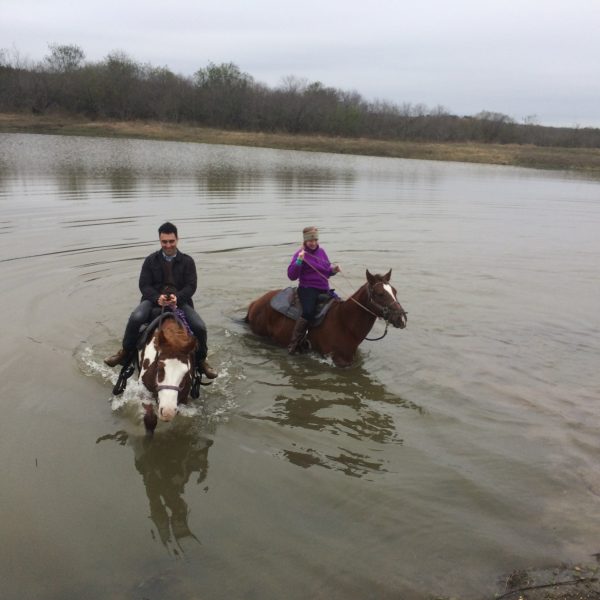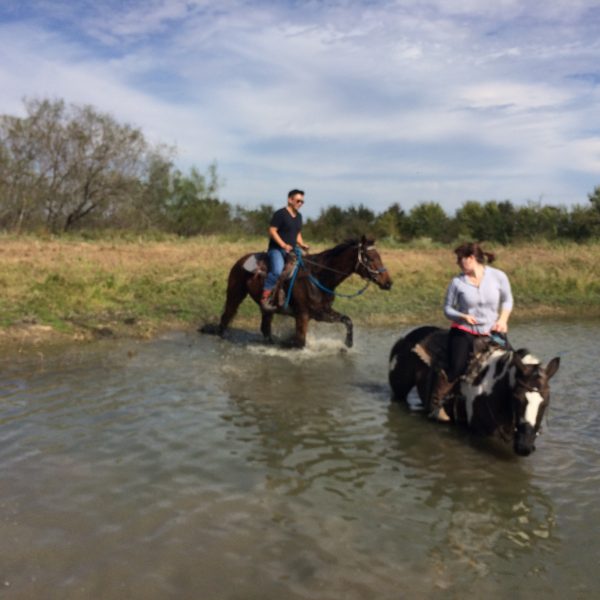 Thanks for reading our Texas Dude Ranch page! If you have any comments, questions or collaborative ideas, please reach out. By now, surely you know how to find us. Yee yee!