Check us out in the 2021 Austin Film Fest showing of Jockey at the Paramount in Austin. We will be there and hope to see you!
Saturday October 23rd: Join us for our annual Maverick Game Days held in Lockhart.
Friday October 22nd: Come join us in Bastrop for a Back to the 80s FUN RAISER for the Bastrop Animal Shelter.
2020 Austin Texas and Surrounding
FREE FRIDAYS
Follow us on Instagram and Facebook to receive notification of Free Friday rides. Advanced riders in the Central Texas area are heartedly welcomed to come ride with us with proof of a donation to the non profit of the week. Text our main business line at 512-230-8413 for more information.
February 21st and 28th
Join us for Free Fridays to support Big Brothers, Big Sisters via the New Braunfels Jaycee's Annual Beer Run Fund Raiser. Come try out our trails on the house with proof of your donation.
February 29th Jaycee's Annual Beer Run in New Braunfels
Saturday, February 29th from 11am-3pm
The New Braunfels Jaycees presents the area's one-of-a-kind 0.5K Beer Run benefitting the Big Brothers Big Sisters!

Location: Rockin R River Rides – Gruene, TX

For additional information, visit their site:

www.NBBeerRun.comThis is not your average race! Sign up for New Braunfels' 5th annual 0.5K raising money to benefit a local non-profit while not requiring too much "leg work" – did we mention that beer is included? The race is short, just circling the block and returning to the starting point. Not too fast, as we've added one technical element to the race that you've never seen. Race the block with a pint of beer, but don't spill too much or you'll be disqualified! Finish with your beer above the "spill line" and with the fastest time for a grand prize!

FAMILY FRIENDLY – WE HAVE A KIDS RACE!!!! Families are invited. We will have a face painter, bouncy house, and separate kids race. Children from ages of 4-12 are welcome to purchase tickets and race for prizes.

And there's a prize for BEST COSTUME as well!!! For those that simply finish, we'll have lots of fun, entertainment, games, raffles, a kidzone and more for you to enjoy a great afternoon.

What does my Adult ticket include? A ticket reserves your spot on race day for participation in the 0.5K Beer Run and includes an event t-shirt, race number, commemorative silicon race cup, and (oh, by the way) a pint of racing beer and a congratulatory beer once you've finished! ***Only the first 300 people who purchase a ticket are guaranteed a t-shirt.
April 3rd TEXAS DAY at Great Oaks Elementary
The Mavericks will be in Round Rock on April 3rd, visiting with students at Great Oaks Elementary School. Interested in assisting? Please CONTACT US for more information.
2019 Austin TX Dude Ranch Event Venue
Thursday, November 21st
Fund raiser event and art exhibition at the Domain, Northside in Austin, TX
Join Domain Northside for an exciting community event while giving back to The Wine & Food Foundation of Texas! Maverick's will be sharing an incredible art collection on loan from Farahnheight Gallery in Taos as well as supplying the one, the only, fundraising mini horse extraordinaire, Rush, in benefit of The Wine and Food Foundation of Texas. Palm Way will be closed to vehicles.
Your $15 donation will entitle you to receive admission to this fundraiser event, in which you can mosey your way around to retail shops and restaurants for some holiday shopping, all the way tasting the finest wines and sampling delectable bites.
All of the proceeds from admission to the event will go to support The Wine & Food Foundation of Texas's professional development cause, which supports local sommeliers, chefs, and winemakers with scholarships and travel stipends.
Saturday, October 12th
Fundraising art event in Blanco The event will begin at 2 p.m. and will end at 9 p.m. Frank from Audesirk Wines out of Houston is going to cook a whole suckling pig and will also be serving wines from his winery. There will be appetizers and wine tastings from a chef from Austin. Enjoy chocolate samples as well as cheese and olive oil samplings. The shop will also be open and selling wine and beer from the store in addition to the tastings from Frank those served with the appetizers that come with the purchase of the tickets. Lauren Corzine, a singer/songwriter out of McAllen, will be performing from 6 p.m. to 9 p.m. Tickets are $75 and that allows the purchaser to do as much of what will be provided as they desire (other than items served out of the store which will be an additional cost).
Saturday, August 24th
6-9pm
Free Event!
Visit us in Blanco at Gillen's (1725 US-281 Blanco, TX 78606) this Saturday to enjoy a fun-filled evening celebrating community, the arts and nature. In an effort to raise awareness and funds for Alzheimer's Texas, Maverick's is hosting the first of a series of fund raising events, "Art is Everywhere." There are so many benefits to living a life rife with art and animals, surrounded by supportive people, good music, fine gourmet goodies and tasty wine. In fact, these elements, combined with an attitude geared toward life-long learning will delay early onset Alzheimer's and inhibit the development of the disease, which now impacts 1 in 5 Americans.
On Saturday, Maverick's will share a fine art collection with Blanco and the Austin community. This horse-centric and Native American art, which many of you have been able to enjoy here at our stables or following along with us online, will be available for acquisition with 10% of proceeds benefiting Alzheimer's Texas. A great selection of silent auction items will be available as well, including tickets to Austin Opera, Sherwood Forest, Krause Springs, Mt. Playmore, a Microderm facial at Petit Beau Ange, a photo shoot with Lindsay Mac Studio and more! Live music by Full Moon Medicine and BBQ from Porky's of Lockhart provide almost enough entertainment. But –hold your horses — Rush, the mini horse fund raiser extraordinaire will be present to make the event extra special. Weave flowers into his mane and snag some selfies with this beautiful paint horse to celebrate "Art is Everywhere." Want to learn more about the artists who's work will be debuted? Click HERE.
Wednesday, July 3rd
Lockhart City hosts a Fabulous fireworks display over the city park. We are inviting you to come join our family and friends in watching this spectacular show.
Bring some refreshments, a dish to share, a chair or two and your best buddy. Using our upper pasture, we invite you to come wine and dine with us as we feast our eyes on this most epic, firework-strewn evening.
If you have an outside game you'd like to bring, then bring it on! Corn hole, frisbee, soccer, you name it! We are so excited to share our beautiful city's renowned fireworks evening with you.
Call or TEXT 512-213-5776 for more information.
Schedule a trail ride with us on the 3rd and stay to watch the show.
Yoga o'er the Bluff top Series
Enjoy six weeks of FREE yoga classes. Our gorgeous ranch house views will have you saying "om" in no time. Please call or TEXT for more information. Times held at 8:30am and 6pm daily starting mid-april.
While we are going to love practicing with our beautiful horses all around us, this is not a horse yoga class. Interested in horse yoga? Reach out to us for more information! Goat yoga? Nah we got that beat! Come on, Austin! Check out the greatest Austin-meets-country experience there is.
November 18th and 19th
We are thrilled to present our second community day on Saturday, November 18th. Looking for something to do with the family? Come enjoy FREE pony rides, photos with a unicorn, mechanical bull riding courtesy of Texas Ride 'Em, tasty baked goodies by Fairy Tale Cakes and a bonfire. Camping Saturday night ($10) as well as arts and crafts and informational lessons and demonstrations by Lockhart State Park and Caldwell County Snake Relocation, a not for profit organization that removes all things slithery or slimy… free of charge! Enjoy Two free photo sessions thanks to generous donations by Carlos Suarez Photography and Chad W Adams Photography.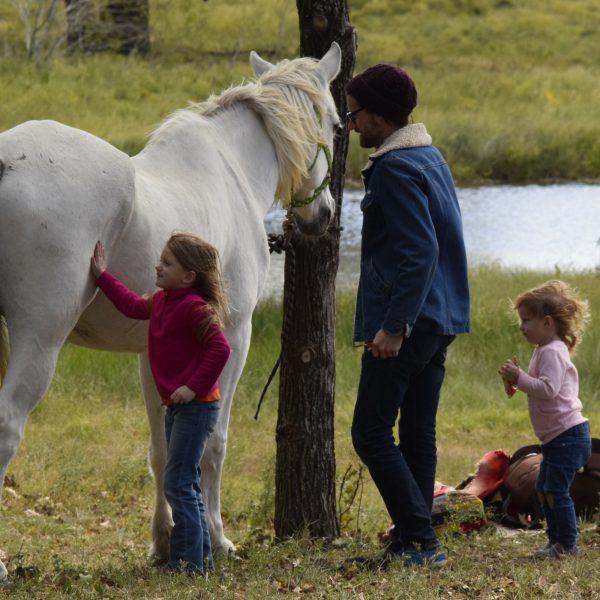 Click HERE for more information about how you can ride the bull for a cause!
A Dickens Christmas: 12/2/17
Maverick's will be hosting FREE pony rides Saturday December 2nd. We will be asking for donations to support a powerful new program starting January 2018: Lockhart Literacy. Austin Lessons and Tutoring, LLC will be hosting free community classes. Children ages 2-7 pm and their parents and grandparents can participate in early literacy classes. Folks who want to share Spanish language learning with their children can take advantage of classes for children of all ages. We are proud to support Lockhart Literacy and Lockhart Spanish Classes.