FLOATING & PREVENTATIVE MAINTENANCE
By Linda Walovich
An oral examination should be an essential part of an annual physical examination by a veterinarian.  The end result is a healthier, more comfortable horse.
Routine maintenance of a horse's teeth has been historically referred to as "floating." Floating removes the sharp enamel points. Occlusal equilibration is the term now used to describe smoothing enamel points, correcting malocclusion, balancing the dental arcades and correcting other dental problems listed under "Common Dental Problems." A complete oral examination should precede any dental procedures.
When turned out on pasture, horses graze almost continuously, picking up dirt and grit in the process. This, plus the silicate in grass, wears down the teeth. Stabled horses, however, may not give their teeth the same workout. Feedings are more apt to be scheduled, not continuous, and include processed grains and hays. Softer feeds require less chewing. This may allow the horse's teeth to become excessively long or to wear unevenly. Adult teeth erupt throughout life and are worn down by chewing.
Because the horse's lower rows of cheek teeth are closer together than the upper rows of cheek teeth and the horse chews with a sideways motion, sharp points form along the edges of the cheek teeth. Points form on the outside (cheek side) of the upper teeth and tongue side of the lower teeth. These points should be smoothed to prevent damage and ulceration of the cheeks and tongue.
Routine examination and correction is especially important in horses that are missing teeth or whose teeth are not wearing properly because of misalignment. For example, if the front or last cheek teeth are out of alignment, hooks can form.
Untreated, these hooks can become long or sharp enough to damage soft tissue. Short hooks or other malocclusions may be corrected with hand instruments. Tall malocclusions may be corrected with motorized instruments. Motorized instruments have replaced molar cutters and chisels because there is less chance of tooth damage. Tall malocclusions may require several treatments spread over 12 to 18 months.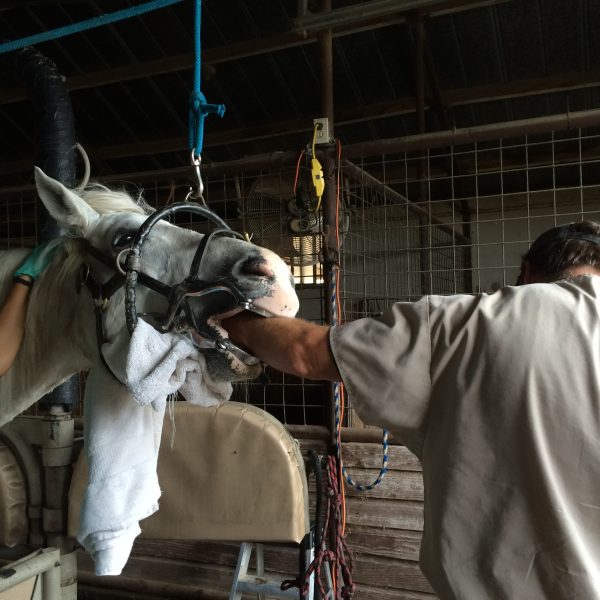 If you are interested in blogging with Maverick Horseback Riding, please reach out to us for more information.  We have rotating programs that appeal to writers and riders of a wide spectrum of skills and walks of life.  If you'd like to get involved or share a story, we would love to hear what you have to say!