If you've wanted to get in the saddle, but you haven't had the chance or the funds, now is the time to pay attention! We will be hosting a series of free giveaways for the next TEN DAYS if you'll follow us along on Instagram. We are kickstarting this giveaway series, with a CONTEST ALERT on Instagram to spread the word of an amazing event.  We are giving away a free Ranch Trail in #lockhart this weekend or next to the lucky winner!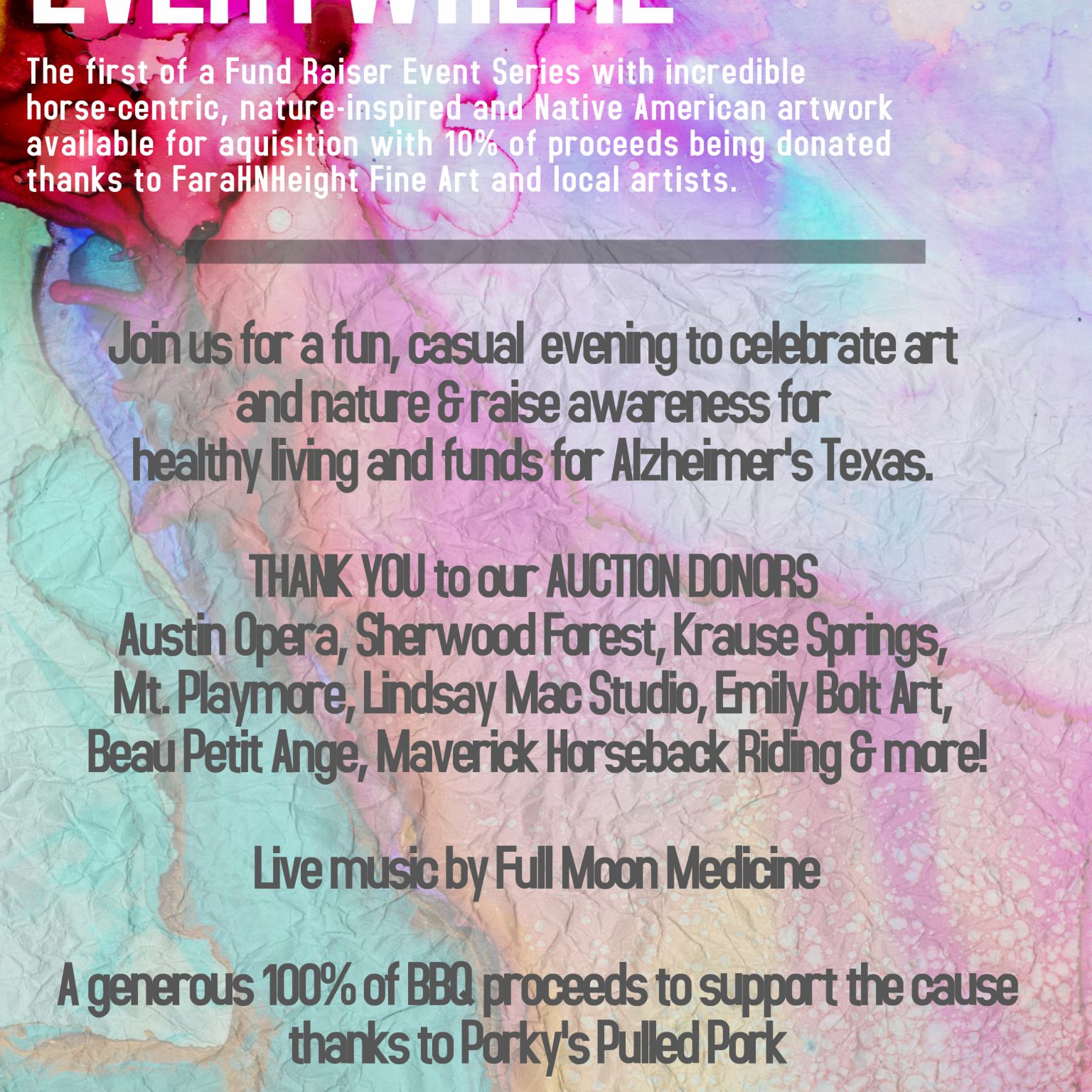 The Details on the EVENT which is FREE and raising funds for Alzheimer's Texas:
Maverick horseback riding is pleased to be hosting a fundraiser event for "Art is Everywhere," being hosted at Gillen's Candies + Wine in Blanco, Texas on the 24th. Some of the artwork you have been able to enjoy out at the ranch will now be available for acquisition with 10% of proceeds benefiting Alzheimer's Texas. Artwork featuring Bill King, Carlos Sandoval, Cloud Face and Brent Learned As well as artwork from local artists will be available for you to enjoy, free of charge. Barbecue from our favorite competition chef extraordinaire, Porky's Pulled Pork, Will be available with 100% of net proceeds benefiting the cause. If the artwork alone doesn't do it, Live music by Full Moon Medicine and our very own horse shenanigans with Rush the mini horse fund raiser will keep us entertained. Gillen's will be providing wine tastings and gourmet goodies from around the world for us to try. Auction items from Austin Opera, Krause Springs, Mount Playmore, Sherwood Forest, Lindsay Mac Studio, Beau Petit Ange and more are available for bidding with all proceeds benefiting Alzheimer's Texas.
The Rules for the INSTAGRAM CONTEST to WIN A FREE TRAIL:
Follow @maverick_horseback_riding, @gillenscandieswine and @art__is__everywhere. Do not follow to Unfollow or you will be removed from future contests.
LIKE The last three posts of Art is Everywhere.
TAG your friends in Individual comments on this page. Each comment counts as an entry. Winners will be selected by random Google Number generator and shared on our story.
Contest closes Saturday morning at 8am. Winner is announced at that time. You may redeem your ride on Saturday or Sunday of this weekend or next!
remember, we are giving away the Trailride just to raise awareness about this event! Please share the word!
The first event is in Blanco, stay tuned for information on further events coming up in the Austin area.
#artevent #artiseverywhere #austinartscene #horseart #equineart #freefuninaustin #austinevent #austinartevent #do512 #austinfun #texasthings #artevent #equestrianlife #horseshenanigans #thingstodo512 #funin512 #512 #atx #austinthings
A HUGE thanks to the supporters of this event.