UPDATE FOR GUESTS DURING COVID-19 PANDEMIC
Update 3/29
Greetings Mavericks,
We hope that wherever you find yourself reading these words in our Brave New World, that you are safe, well, fed and feeling loved. Don't forget to eat your veggies, gargle frequently, and reduce your sugar intake to stay as strong as you can, to protect those who you love.
For many years people have commented that this jumbled mess of a website is what brought them to us. Rest assured, the website is yet another project on the To Do List, which has suddenly gotten much larger, and much smaller all at the same time. It will be improved! In the interim, updates will be posted here and copied to our blog roll. You'll be able to book online for Private Excursions, which are about 4 hours long. You can book online by clicking HERE. When you schedule with us, plan to come to an Austin "Dude Ranch," "Daycation" Experience. Bring a picnic lunch and a can-do attitude. You'll come to meet our unique herd, a fur family that consists of everything but a few pigs and a llama. Oh… and also a Camel. That's right. We still haven't got the camel. We digress… Future camel and llama herds are distracting. So, you'll meet the cuddle crew and come to know your horses for the day much more closely as well. During grooming and prepping, which takes about an hour, you'll get to learn all about keeping your horse responsive for a more engaged ride, and perhaps it goes without saying that you'll also help contribute to the essential ranch duties of keeping our herd healthy and happy. You will also learn some basic safety in checking your mount and your gear, and potentially assist with repairs as needed, or a quick rub with oil. Perhaps you'll pound a celebratory T post, scoop some manure, or groom out a messy baby. It's to say, you'll give a hand on the ranch. We need it! And really, so do you. And so does the world. We believe America would be stronger, more independent and healthier if more of our fellow citizens looked back to the ways of the old. We will share with you some of that life lived long ago, as well as practices founded on the collective knowledge of people from countries and cultures from all over the world. It's amazing the basic protocol that can be overlooked with regard to gear safety, land management, and understanding being-to-being interactions. Learn more about the Maverick Mission, learn to care for animals, learn to care for their land. Learn, of course, to ride!
After meeting the Mavericks, giving a hand with some necessities and preparing your horse for the ride, you'll be ready to hit the trails. The ride time is just under 2 hours. On the trip you'll get to see lots of types of varying terrain. Based on your comfort and skill level, we will have the opportunity to stop and take photos, pick up the pace, or blow up Instagram. (Just sayin'.) You'll love the diversity of the trails we have access to as much as the engaged and responsive horses. Feel free to tone down, or up the level of instruction you receive.
For the health and safety of those we love, we regretfully must turn away riders who present with symptoms of Coronavirus. We understand cold and allergy season is upon us. We treat everyone (including ourselves) as asymptomatic carriers. Coughing and sneezing greatly contribute to the spread of the disease. Questions? Feel free to call or text 512-230-8413. Make sure you speak with someone before booking to verify that you are comfortable with our sanitation practices. We want to thank you for considering booking with us. Take a gander at the website and reviews to get a better sense of what we offer and why it's been heralded as the total horse ranch experience.
Hope to see you in the saddle,
Jo Marie
3/13/2020
Dear Future Guests,
First of all, we send you our love. We send you our respect, our tolerance, our compassion. We are all in this together.
Please take a moment to read about our services. If you're stuck inside anyway, why not spend some time reading? You can learn about our research, read, write and ride opportunities as well as cut costs of rides by coming out and helping us around the ranch! We would like to utilize this moment in our nation's history to remind you of the hard work and blessings that come from the ranch.
Currently, we are offering private rides only. You may book a ride online at our beautiful Lockart location, or call 512-230-8413 for information about booking a ride in Bastrop, Austin, Canyon Lake, Spicewood, Dale, Blanco and Kileen. Plan on spending 3-4 hours with us during your experience, where we will walk you through our sanitization protocol, introduce you to the herd (which of course includes cow cuddling, baby chick handler 101 class, goat shenanigans and more).
We will encourage you to pack a lunch to enjoy after your day is through, overlooking the valley of horses from our picturesque bluff top, which boasts some pretty epic panoramic views. Feel free to utilize our many fire pits to make yourself a little bonfire as well!
We are happy to share our sanitization practice with you as well as more about what the ride is like. Just understand that as a private ride, you'll have the opportunity to do more, or less (and relax!) as you wish. We will take plenty of photos for you as well.
In order to comply with Federal guidelines, we are keeping group sizes limited. We must account for help on the farm so please ensure that you do not book more than 6 people for your Texas experience.
We close by wishing you all strength and courage. Washing your hands is not enough. Walk around barefoot, sit up straight and breath, eat your veggies and stay positive. If horsemanship has taught us anything, it is that the power of visualization is real. Focus on what you want, breath deep, and ride on.
Peace Be With You,
Jo Marie and the Mavericks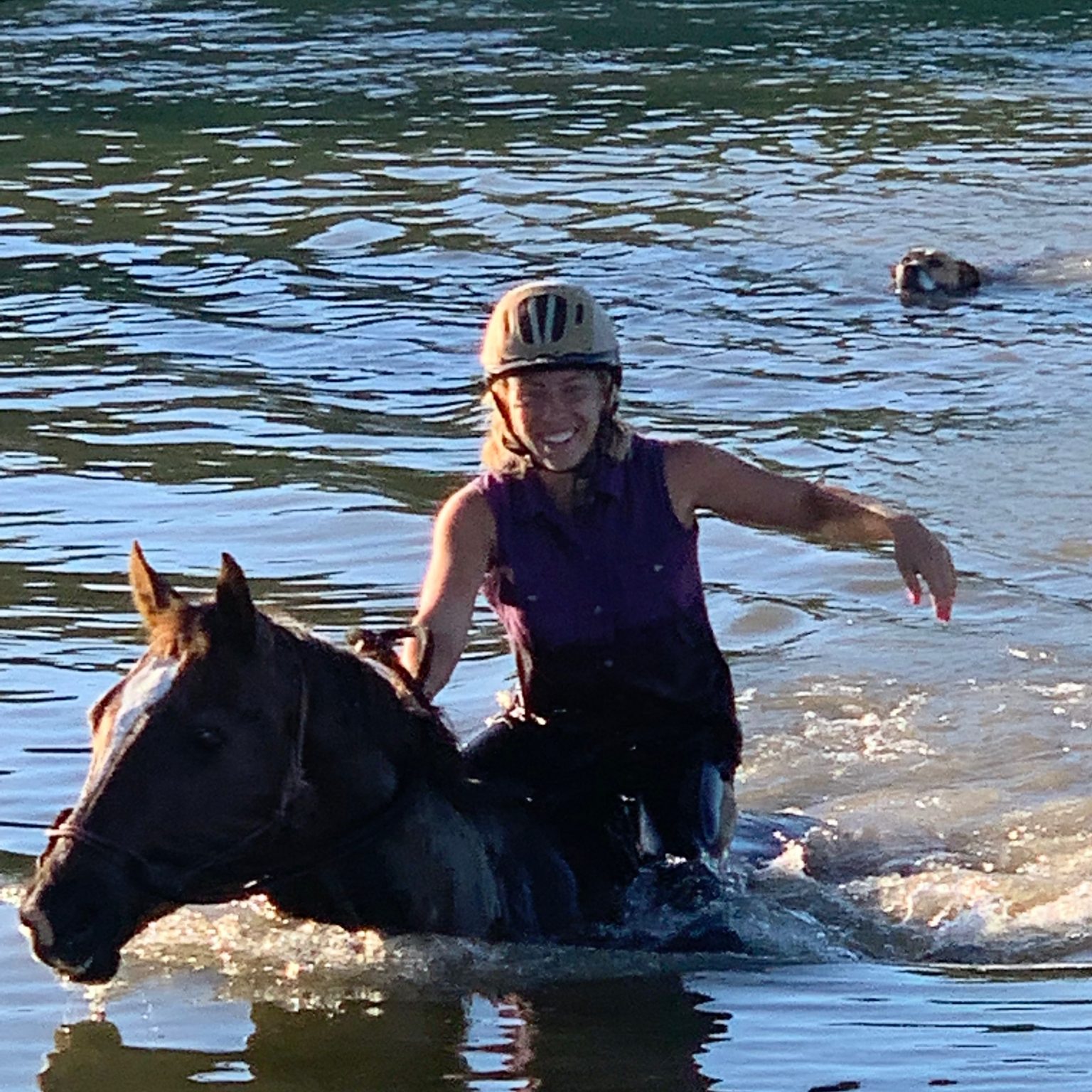 Trail Rides
Ready to book? Visit our Book Online page and you can get scheduled to ride horses with us!
Lockhart Options
The Lockhart trails are popular for their incredible scenery with huge panoramic views of the valley. Enjoy elevation changes of varying levels of difficulty and options for everyone in the family. The layout of the ranch permits for groups to sign up for mixed trails and still ride together. Please inquire if you have any questions!
Bluff Top Trail Ride: $75 for children, $95 for adults
An excellent choice for groups who need to make a shorter trip, this trail ride boasts excellent views and more gradual elevation changes than the Ranch and Horsemanship Trails. Approximately an hour and a half from start to finish, total mounted time 45-60 minutes. Ideal for families or riders who aren't sure they want to commit to the full length of the Ranch Ride. You can book this ride alongside the Ranch or Horsemanship Trail for mixed groups. For children 11 years old and under and 89 pounds and under, the cost is $75. For children over 12 years old or 90 lbs or more, the cost is $95.
Ranch Ride: $115 Per Person, inquire for private group ride rates
Instructional, but less instructional than the Horsemanship Trail. Some steep elevation changes and trotting. Best for health riders of a healthy weight range. Approximately 2 hours from start to finish, approximately one hour 15 minutes in the saddle. You can book this ride alongside the Bluff Top and Horsemanship Trails for mixed groups.
Group Horsemanship Trail Ride: $185 Per Person, Private Varies
Beautiful, very engaging, highly instructional, pick up the pace, a great work out. Read More: CLICK HERE. You can book this ride alongside the Ranch and Bluff Top Trails for mixed groups. Best for individuals who want a physical and mental workout and want to know what "riding a real horse is really like." This is what all of our original trails were based off of! We introduced the Ranch Ride and Bluff Top trail to give more nervous riders an option that doesn't include as much instruction. In order to pick up the pace you must be willing and able to accept instruction on how to improve the cue sets for our horses. We love to get up and go. We hope you do, too. Regardless of your skill set, we will work with you to see what we can accomplish. Thank you for understanding that our first responsibility is safety. Our second is the health of our horses. After that we bet you will have fun! Our Year of Riding is based off of this ride, and the River Ride.
The River Ride: $225 Per Person
The Original Maverick Lesson on the Trail: This is what made us who we are! Widely renowned for it's incredible views, elevation changes, water crossings and unique trails-meets-lessons approach this 3.5 hour experience will truly take your breath away. This trail is suitable for healthy adults and children who are excited to learn a lot about horsemanship, regardless of their current riding experience level. You bring the desire to learn and grow, we provide the rest. Over the years we've learned that the recipe for fun is one huge part student willingness, an even bigger part desire to serve the horses, and after that everything falls into place. Ready to ride how you want? We can't wait. See you in the saddle.
Children's Introduction: $35 Per Person
Great for children ages 3-7 who have a parent or adult chaperone who is physically healthy and does not want to ride. Adult partner must be fully present the entire lesson. Short mounted period in your first session, mounted time increases as you continue to ride with us! Lucrative lesson option for locals.
Dates and Rates: CLICK HERE
Austin Options
There are several private ranches and parks in and around Austin for riding. The Southeast option, which is bookable online most days of the week, takes you through Onion Creek. Based on the season, this can be a very beautiful ride. However, low water, high water or algae can make this ride less desirable. For most people, booking at the Lockhart location is nearly the same drive time and well worth the extra 5 or 10 minutes in the car. If you have questions about riding in Onion Creek or other parks and ranches in Austin, reach out! The Southeast Austin Trail Ride is $125 per person. Inquire as to private ride rates!
Alternate Locations
You can book online at the Lockhart and Austin locations 7 days a week. Alternate locations check the Dates and Rates page. Bastrop, Luling, McDade, Blanco, Spicewood, Granger, Canyon Lake and Round Rock all have something unique to offer. Click for Houston Rides, Click for Bastrop Rides.)
SOME MORE ABOUT OUR TRAILS
If you're looking to explore some beautiful Texas country side on horseback, then look no further. We are offering trail rides 7 days a week at our Lockhart location, which you can book online, or our Austin locations for private excursions. Maverick's still offers its notorious horsemanship trails, for folks who are interested in challenging themselves to take their riding to the next level.
While our trail rides are perfect for a laid-back morning or afternoon, we still offer some components of good horsemanship on our trails. For example, we adjust rider stirrups to a safe and comfortable position. This takes an extra 10-20 minutes, but is well worth the added safety not just for the rider, but also for the comfort of the horse. After a brief "hey how do you do" with your horse on the ground, get mounted up and hit the trail! Rides are about an hour and a half, with the total session time being about two hours. Do you want to do a trail ride or do you want to do the horsemanship trail? Read more about the Trail Ride versus the Horsemanship Experience to make sure you choose exactly what you want to do in Austin!
Media Spotlights
Visit our General Services Page for links to reviews, media spotlights and collaborations. Don't forget to check out the Frequently Asked Questions Page! CALL OR TEXT for more information.