Summer Camp Dates are Up!
Greetings Summer Campers and Parents,
Our Summer Camp Dates have been announced.  We are looking forward to scheduling your children for a variety of fun activities throughout the day.  Summer campers will have the opportunity to ride, decorate, bathe, groom, handle and train horses this summer.  We are currently collaborating with parents on coming up with alternate activities for different age groups.  We've got Horse Yoga, Horse Soccer, Horse Painting, Horse Arts & Crafts, Horse Reading Time, Horse Movie… Ok, you get the picture.  We are excited to share with you how we will be separating age groups and attending to different learning styles.  Please don't hesitate to contact us and get involved.  Summer camp is going to be busy, with talented instructors working with smaller subsets of age groups during five camping sessions.
We are offering day camp to children ages 5-16.  Each day camp includes 1.5 hours of mounted time and a variety of fun activities on the ground.  Overnight camp sessions include a minimum of 2.5 hours on horseback, and exceptional accommodations with clean sleeping spaces and great local cuisine.
This year, we are making the point of hosting group activities and demonstrations for all of the campers, and also more private time with small groups.  We understand that summer campers of different ages have different needs, and that's why we are very excited to offer a variety of different spaces for summer campers to occupy.  We have an air conditioned loft in the barn that will be our spot to host a cool and quiet horse movie in the afternoons for the younger children, while those who still have energy and are raring to go can take part in bathing the horses.
During summer camp 2017, we are most definitely going to be offering horse painting.  This is a fun way for summer campers to quite literally get their hands on the canvas.  Maverick and Ghost patiently stand by as campers scrawl their well-wishes, or simply lay their hands on these big old beasties to make a colorful handprint collage.
Arts & Crafts are led by engaging instructors who cater different art activities to students based on age and interest. Examples of crafts include creating a dream board with campers favorite horse photos, tack and gear, as well as painting wooden horse stables and jumps to take back home for their own mini barns.
Horse back riding and yoga go so much hand-in-hand that we will be offering yoga sessions for all campers.  Yoga teaches us about breathing, focus and alignment, which are strong fundamentals of horse training and riding.  Yoga sessions will be held on the ground overlooking a gorgeous panoramic view of the valley, while the horses contentedly munch on green grass right there in the fields below the bluff.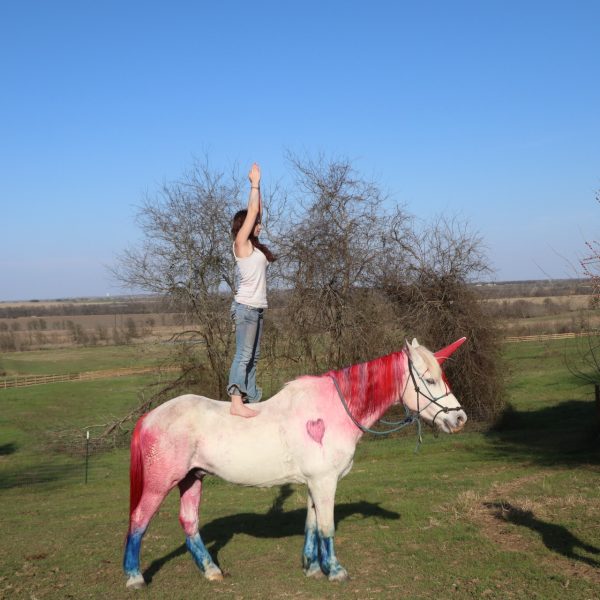 We will also have horseback based yoga sessions for individuals who want to build up their confidence and give it a try.  Yoga on horseback requires a serious approach to fun.  We have handlers by your camper's side as he or she masters the art of quiet contemplation while on the back of one of our most gentle horses.
Summer Horse Camp 2017: Where your camper wants to be!
Day Camp Pilot Program
The 6-16yr old day camp problem
Three years ago MacCoy stepped in to revive a summer camp program at a local boarding facility that was completely dead. There were no students other than a few trickling in from lessons, and the camp program was in pretty rough shape. MacCoy made some big changes, including increasing the amount of saddle time (which was then only 45 minutes for the whole day at a "horse camp"), added in some extras such as trail and bareback riding, cleaned up the camp crew (which was comprised of surly teenagers on cell phones), and voila! etoricoxib Within three years the summer camp program was completely filled. It was awesome!
Now that MacCoy has the chance to run her own summer camp from the start of the day till the end, there's some excitement about what that's going to look like. We've already identified overnight camp, specifically targeting children ages ten and up.
So what about the younger children? Traditionally, horse summer camp programs are open to children ages 6-16, or some close variation to that. As camp coordinator, and as a parent herself, MacCoy has wondered if that approach is really working. There's a big different between a 7 year old and a 14 year old, and treating them with the same summer camp schedule can be challenging on student and summer camp counselor. Ok then. Now what? There's a high demand for summer camp for little ones.
As a community-based management company, we identify problems in the community and seek to collaborate with the community to solve them. That's a different approach. We believe the problems are that there is not an adequate summer program for children ages 6-9, 8-12 and 11-16, but maybe that's not the issue. We also believe that transportation is an obstacle. There are various solutions to this, including arranging carpool groups and private transport. The problem on the horsey end of things is that simply selecting weeks in a summer for certain ages will automatically exclude huge portions of folks who may very much want to be part of the collaborative community effort to help design a program that caters to more specific ages.
Day Camp Pilot Program
The 6-16yr old day camp solution
This spring, we have scheduled several meetings in North and West Austin to meet with parents who are looking for a Summer Camp Program with a unique approach. We've got the facility, the activities, and the staff on hand to give your children a summer camp program they'll never forget. Now we need to coordinate with parents to discuss the issues of transportation, food, hours of camp, ages to target and the unique challenges and approaches to be taken with the younger campers.  If you are interested in getting involved, please contact us!
We are running two pilot programs this summer. One for children ages 6-10 and the other for campers ages 8-12. We believe that separating children in to more cohesive age groups will provide a more seamless camp experience and allow for us to handle the unique challenges of working with the 6-9 year old age group in a more targeted way. The reality is, it is HOT out there and all campers are going to need breaks. We've already got great activities set up to give campers that chance to get out of the heat. Arts and crafts, yoga, and photo editing and social media marketing & etiquette are all on the board ready to go. That still doesn't handle the issue of the level of fatigue that the 6-9 age group experiences. Solutions?
We've discussed setting up a horse movie with the lights on low so kids can get a chance to turn off for a bit and even take a nap. They may say they aren't tired, but we parents know that once those lights dim down, children will often nod off. And if they don't, no problem, they still have the opportunity to enjoy the movie. Another option is having reading sessions in the afternoon. As a community-based management company, we want to talk with you directly to hear what your concerns are so that we can ensure that we provide services that actually take care of the challenges you face. Refreshing! Check back for dates for our pilot program discussion sessions. We want you, the parents & children, involved in the process of creating the most unforgettable summer camp program we can possibly provide.