About Us
About Maverick Horseback Riding
Maverick Riding was born as Austin Lessons and Tutoring, LLC, almost five years ago.  When Joan Marie MacCoy, owner, founded AL&T, she used principles founded in Community-Based Management Theory to run and operate this very humble business that has made strong efforts to be present in the local community.  Coming from North Carolina, MacCoy didn't have any idea what the local community needed, or what problems they sought to solve.  Rather than forming a company that offered specific services and creating marketing campaigns to convince the public why said services would be useful, she established four fundamental services that all relied on good communication and strong education principles.  As a strong proponent of integrated learning, whenever and wherever possible, MacCoy overlapped these services.
In it's beginning, AL&T served the public by offering Special Needs Habilitation Technician Services, Core Subject Tutoring, Horseback Riding Lessons on the Trail and Foreign Language Immersion.  In one example of cross-over, MacCoy spent a semester training a struggling Spanish-speaking kindergartner who was resisting interacting with her English-speaking peers and teachers.  MacCoy used the vehicle of riding, and a laid-back atmosphere of nature and the trail to casually make English learning fun.  In another instance, a non-verbal spectrum child was brought to MacCoy for riding lessons outside of the arena, with sensory trails as only nature can provide.  The horses have been used to teach Spanish, Chinese, English.  They've helped provide an incentive for struggling students.  They have stood strong while thousands of riders have enjoyed getting a taste of what real riding is all about– no monotonous circles in an arena on a tired horse and no dead-head follow-along un-spirited trail pony.
Over time and through endless conversations with clients about what areas of community education were lacking, AL&T shifted to focus more and more on riding and less on core subject tutoring.  While we've shifted away from this particular facet, we have continued to serve individuals with unique foreign language immersion programs, "extra curriculars" such as art, yoga and music as they tie into horse and western culture and history, and of course we have refined, tested, and re-refined our riding lesson program.
We are so happy to be a part of the Austin Metropolitan Community, and we have so much enjoyed hearing all of your suggestions, hopes and dreams.  We want to continue to work with you to provide services that are dynamic, bold and engaging.
As always, if you have any "you-may-not-believe-this" idea, don't hesitate to run it by us.  That is what we are all about.  Serving you.  Serving our horses.  And living the American Dream.
With love and gratitude,
Joan Marie MacCoy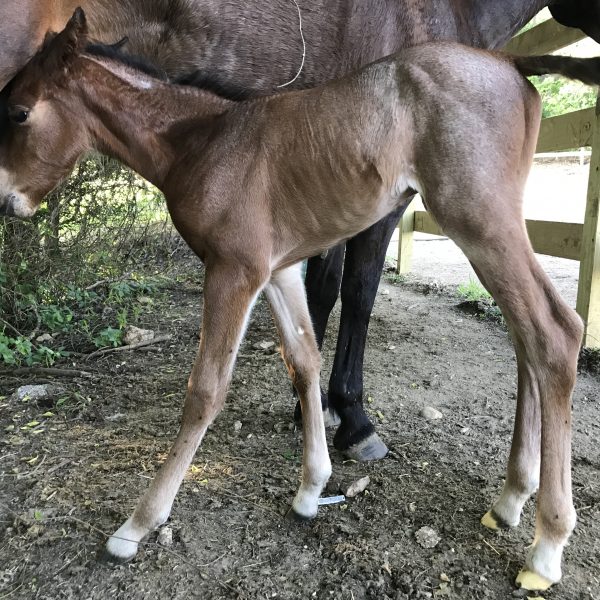 5/18/17
Thrive
What does it take to thrive?  Certainly good nutrition, a sense of physical and mental balance, and I'm sure my horse chiropractor would agree: a healthy spine.  These fundamentals hold true for people and horses.  It's one of the reasons that we at Maverick Riding take such pride in our consistent efforts to maintain healthy guts, balanced movement and thriving spines.  Our food source is heavy in forage, which has well-known benefits to our equine working partners.  In an attempt to reduce quick consumption of grain or grain hitting an empty belly, we've recently added high-quality timothy hay pellets into feeding, watered down not only to slow overall consumption but also to prevent choking.
As for balance, we've been able to rotate some of our more commonly used beginner horses as guide horses, making sure that they have the opportunity to get out and get moving with more advanced riders who require them to move straight, bend on the curve, flex and collect.
I'm happy to report that our recent visit from a holistic horse expert has informed us that our horses look PHENOMENAL.  Aside from some of them being a little too fat (except the new horses, who are still skinny… it takes a long time to put weight on lean horses), their spines appear in very good shape.  We've got our regular chiro visit and balanced riders to thank for that.
Next step?  We'll be updating our saddles.  We had a visit from a saddle-fitting clinician and we've identified what's working, what's not and what we need to do about it.  I'm excited about an upcoming trip to Southeast Tack in Brenham with 8 of our most used and hardest-to-fit horses.  I've been wanting to update our gear for quite some time, so this feels like a great leap forward to me.  And double bonus!  We get to take the retired saddles and make saddle stools out of them.  Awesome factor, right?
Thanks for taking the time to visit our page.  We look forward to seeing you out at the ranch.
God Bless!
Joan Marie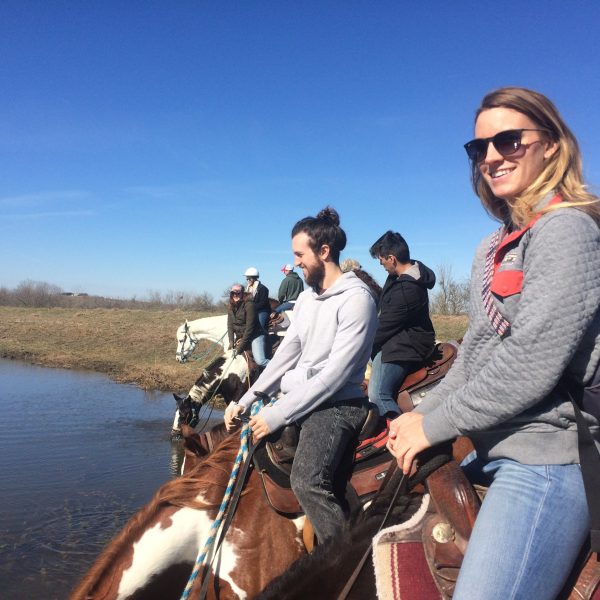 ABOUT MACCOY
Joan Marie began working with children over 20 years ago, caring for a six month old baby and cleaning house for a family while the child was napping.  From there she grew to work with thousands of children over the years in a variety of settings. Her natural ability to express information down into manageable parts led her to work with children as a habilitation technician, tutor and teacher between her undergraduate and Master's degrees.
As a child herself, Joan Marie had foreign exchange students from Brazil, Mexico, Venezuela, Japan and Russia live with her. These experiences along with a Rotary Club Scholarship to Costa Rica helped encourage a powerful interest in languages, culture, communication and animal husbandry.
It all came together during her experience as an interpreter and translator at the Partnership for Children (NC), where she realized that communication, childhood development, culture and educational experiences form the basis for each person's unique unique outlook on the world.
During her Master's in International Studies at East Carolina University, Joan Marie reflected heavily on the connection between language, culture, personal experiences and world view. Through her Hispanic Studies certificate, Joan Marie gained further mastery of the Spanish language, began exploring Chinese, Portuguese and Italian more in depth, and studied the art of community-based organizations and partnership formation and maintenance. Again, the importance of clean communication emerged.
Since relocating to Austin from a small town in North Carolina, Joan Marie has sought to utilize her diverse skills in communication by establishing a local business to serve the needs of students, special-needs individuals, and persons interested in developing confidence, skill, better self-awareness and communication skills by working with horses.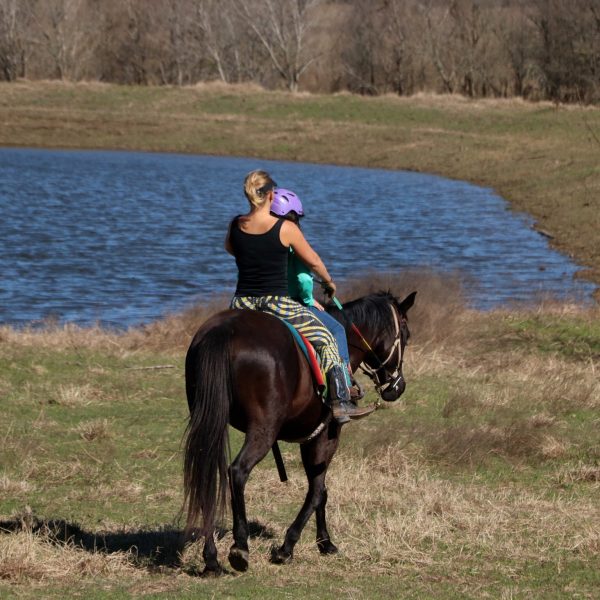 9/11/2017
Honor
Today we take a moment to pause and reflect, remember those brave men, women and animals who risked and gave their lives in one of our nation's most traumatic memories.  We feel so honored to be here as stewards of this beautiful space we call home, and we know we wouldn't be here without the efforts of people of ALL walks of life.  Today, we pay honor to people of all backgrounds, colors, and religious orientations, for fighting for our freedom, our land and this place we call home.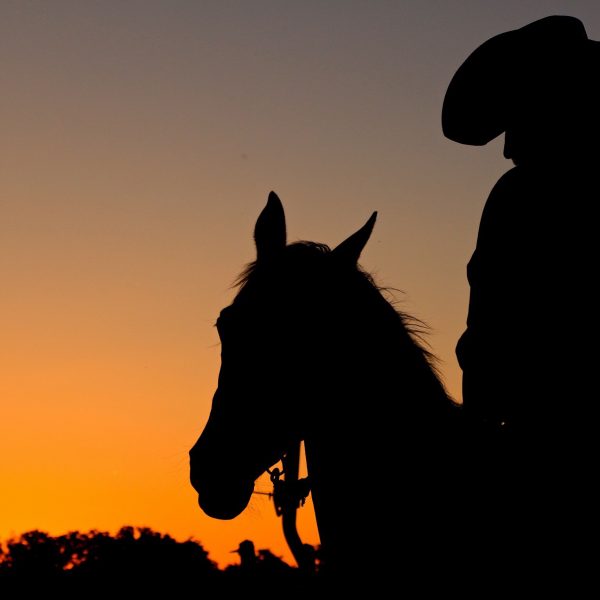 Call to make a reservation, or for more information about our services.  We are located 20 minutes away from the heart of downtown San Marcos.